Ian Kingsbury
Ian Kingsbury
212 Graduate Education Building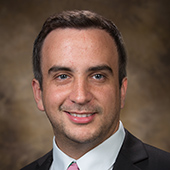 College of Education and Health Professions
Fayetteville, AR 72701
iskingsb@email.uark.edu
Ian Kingsbury is a Doctoral Fellow and Graduate Research Assistant in the Department of Education Reform at the University of Arkansas. Prior to coming to Arkansas, Ian graduated magna cum laude from the College of William and Mary with a B.A. in Government and History. He worked in finance for one year before returning to school and earning an M.A. in Education Policy from Teacher's College at Columbia University. After earning his M.A., Ian worked with young adults with learning differences in a residential setting, helping them to cultivate independent life skills. His research interests include school choice, civic outcomes, and education politics.
Education:
University of Arkansas - Ph.D. in Education Policy (Anticipated May, 2020)
Columbia University - M.A. in Education Policy
The College of William and Mary - B.A. in Government and History
Research Interests:
School choice
Civic outcomes
Education politics
Peer-reviewed publications:
Kingsbury, I. (2015). Reconsidering Truman's Dilemma. Tufts Historical Review, 6, 61-74.
Greene, J. & Kingsbury, I. (2017). The Relationship Between Public and Private Schooling and Anti-Semitism. Journal of School Choice, 11(1), 111-130.
Kingsbury, I. (2018). Making Sense of Low Private Returns in MENA: A Human Capital Approach. International Journal of Educational Development, 61, 173-183.
Kingsbury, I. (2018). Silencing the Seventh Trumpet: Analyzing the Effect of Private Schooling on Voting Behavior. Education, Citizenship, and Social Justice. OnlineFirst.
Book chapters:
Bearfield, D., Maranto, R. & Kingsbury, I. What to do when the yelling stops: How Black Lives Matter can have lasting impact. In J. Ward (Ed.), Policing and Race in America (pp. 17-30). Lanham, MD: Lexington Books.
Other Publications:
Kingsbury, I. (2017, September 11). Hope for Agency: Education Department May Live. Arkansas Democrat-Gazette.
Kingsbury, I. (2017, March 3). How School Choice can Increase Religious and Racial Tolerance. Washington Examiner.
Kingsbury, I. (2017, March 27). Study Finds Private Schoolers Express anti-Antisemitism, Intolerance at Lower Rates than Public Schoolers. EdChoice.
Invitations to Speak:
AEFP 2017 (Poster Presentation): Silencing the Seventh Trumpet: Analyzing the Effect of Private Schooling on Voting Behavior
AEFP 2018 (Presenter): Barriers to Entry: The Pitfall of Charter School Accountability