Program Perks
Education Policy PhD "Program Perks"
Funding: There are two fellowships available to potential EDRE students; the Distinguished Doctoral Fellowship, and the Doctoral Academy Fellowship. Interested applicants can apply here. Students in the program are also able to collect data in the field for research projects and present at national and international conferences free of charge, without needing to fund raise.
Job Market Preparation: The EDRE PhD program is unique for encouraging students to start presenting posters and lecturing at conferences, join in on research projects with faculty and fellow students, and begin networking during their very first year of the program. Students can work with anyone in the department on projects that interest them, and can also take the lead on research projects. Students have opportunities to teach both in other departments and during the EDRE summer 'math boot camp' for entering EDRE PhD students. Through the Office for Education Policy in EDRE, students interested in policy work can choose to help write policy briefs and reports for the Arkansas Department of Education, present at the state legislature, help to run charter school lotteries, and work with school districts to conduct evaluations. The EDRE Lecture Series is run by students, which offers many opportunities to network and meet senior researchers and practitioners in education policy and other related fields.
Placement Post-PhD: EDRE boasts completion rates of 79% (4-year) and 89% (7-year), with program graduates having taken positions in academia, think tanks, federal and state governments, foundations, and elsewhere. EDRE grads have had diverse careers after the program, and include positions such as Assistant Professor, Director of National Research, Education Policy Advisor, and Commissioner of the National Center for Education Statistics at the US Department of Education. Interested potential students can visit our alumni page to see where EDRE graduates are currently placed.
Travel Opportunities: Students in the program have opportunities to present free of cost at local, national and international conferences with faculty. Field work is conducted as part of several ongoing department research initiatives which can be viewed here.
Life in Fayetteville, Arkansas: Nestled in the beautiful Ozark Mountains, Fayetteville has consistently appeared at the top of "Top 25 Places to Live in the US" lists in the last several years and is in one of the fastest growing areas in the country. Northwest Arkansas is home to the University of Arkansas main campus and offers a low cost of living, a thriving arts scene including the Walton Arts Center and Crystal Bridges Museum of American Art, and 200+ miles of scenic trails for outdoor enthusiasts. Explore more of Northwest Arkansas here.
The education policy doctoral program is the only program of study in the Department of Education Reform, offering students extensive one-on-one mentoring from faculty and opportunities for collaboration.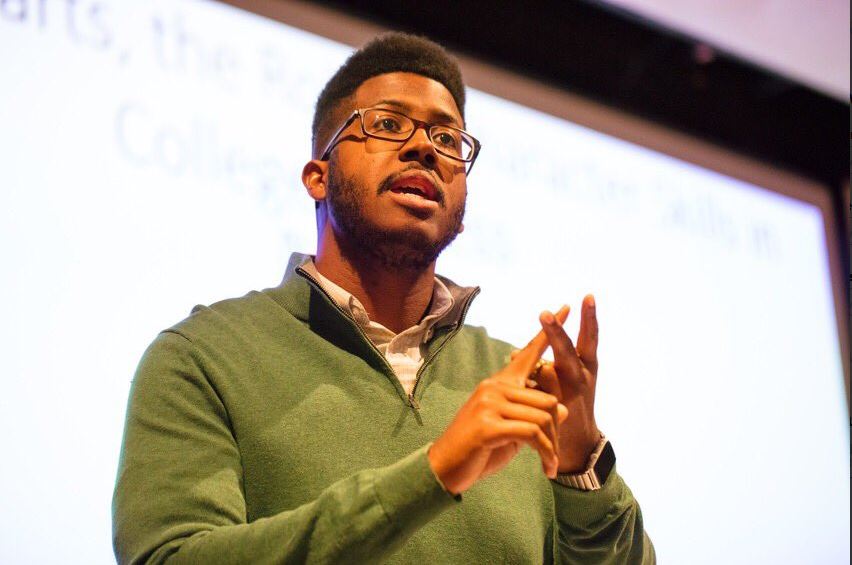 Students have opportunities to present new research every year of the program and even join competitions such as the 3 Minute Thesis Competition at the University of Arkansas, which EDRE student Malachi Nichols won in 2018.
EDRE students start networking, presenting posters, and lecturing at conferences during their very first year of the program. The department also hosts a brown bag lecture series throughout the year to offer students a chance for feedback on student work and presentation skills.
Students and faculty on the first EDRE study abroad trip to study international education in Israel during the summer of 2018. Read about their experience here.